Achieve Your
Goals.
Together.
Accomplishing something great by yourself is hard.
Stay accountable to your personal goals & habits with Stryv.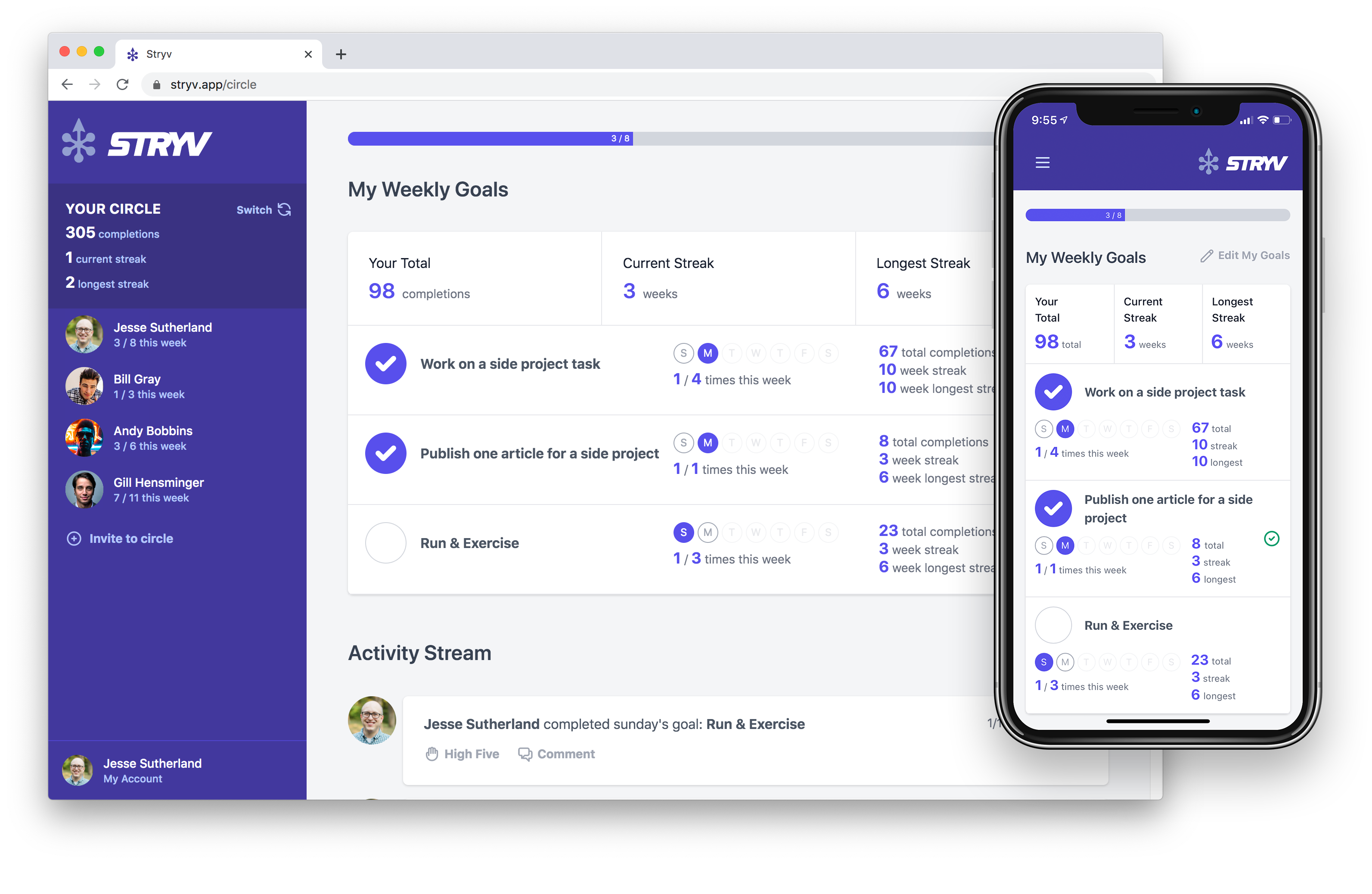 Get Started Now
1

Create An Account

It is simple, free, and just takes a minute to get started.
2

Track Your Goals & Habits

Create weekly personal goals and habits related to health/fitness, work, education, mindfulness, or whatever you are striving for.
3

Invite Your Friends

Friends can encourage you in your goals and create their own goals to join in on the motivation.
4

Earn Weekly Streaks

Streaks keep you motivated and help you keep track of how often you are staying consistent on your goals.
Why Stryv?
It's Personal
Some platforms allow you to share your progress with the entire world. But it can often feel like no one is listening or even cares that you are sharing your progress. Sharing with a small group of friends is more motivating.
Small Groups are Powerful
A small group of likeminded friends or coworkers can push you to do better than you could ever push yourself. Identify who that small group of people is in your life that pushes you to be better and wants some accountability themselves.
Real Change is Hard
Forcing yourself to change a habit or add a new discipline can feel impossible. Real change often starts when you make a commitment to someone else and then need to live up to the promises you made.
Accountability From Friends is Powerful
Weekly Goals

You set a goal for something you want to do X times a week. This gives you flexibility to shift your schedule when you need it.

Goal Streaks

Individual goals can go on a streak of their own, so even if you can't achieve all of your goals in a week, you can still keep up a long term streak.

Personal Streaks

If you complete all of your goals for the week, you can go on a personal streak showing that you accomplished everything you set out to do this week.

Group Streaks

If everybody finishes all of their goals for the week your group can go on a combined streak. This provides good motivation to cheer each other on.

Weekly Email

At the end of the week you get a summary email with your own and your groups progress toward your goals.

Comments

Leave encouraging comments and helpful feedback to other members in your group or start up a related conversation.

High Fives

Give a high five to let someone in your group know that you saw what they did and that you are cheering them on!

Mobile friendly

We don't have a mobile app yet, but the website is mobile friendly and works almost like an app if you add it to your home screen.
Achieve Your Goals.
Start using Stryv today.
The tool is free to use for tracking up to two goals at a time. A power user account is a one time purchase of $9.99 and allows you to create more goals and join multiple groups.
Sign up for free